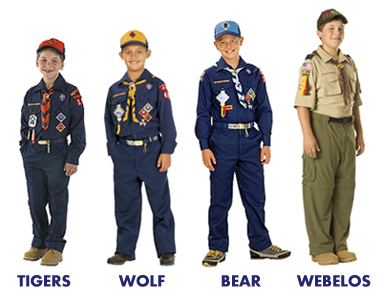 You will need to purchase a uniform for your son. The necessary uniform items will cost approximately $60. Additional uniform items, such as official scout hats, pants or "Class B" t-shirts are optional.
We wear our Class A to all pack awards, special scouting events, and den meetings if your den has flags. Here are the only REQUIRED items you will need to purchase
Shirt: Cub Scout Class A- Tigers, Wolves, and Bears will need a blue shirt. Webelos may choose between blue shirt or tan shirt. **TIP** Buy a shirt 2-3 times larger so your scout will have plenty of room to grow into it and get several years of use from it!
Neckerchief
Neckerchief Slide
Belt
Patches– Numbers 6,5,3 (our pack #), Grand Canyon Council Patch, and the World Crest Emblem (purple
Also Part of the Uniform:
Pants-Blue Jean shorts or Blue Jean Pants
Shoes- gym or running We have many physical activities that require proper footwear.
You can purchase Scout uniforms at the Mesa Scout Shop- (behind the Bass Pro Shop and by the Cinemark Theater)
Mesa Riverview Shopping Center
1061 N. Dobson Rd., Suite 109
Mesa, AZ 85201
(480) 926-0345
M-Sat: 10:00 am – 9:00 pm
Click Here for more details on the Cub Scout uniform
Click Here for more details on the Webelos uniform