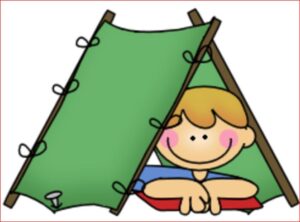 November 9th & 10th, 2018
Cost is $10.  Registration will need to be completed by October 30th.   More details to come.
Saturday's Breakfast will be chosen and prepared by each Den.
Saturday's burgers and hotdogs will be provided by the Junior Webelos. Please see the sign up genius to sign up and bring a side.
All other meals are the family's responsibility.
Bring the whole family for a fun packed camping experience! There will be many adventures for the scouts to achieve and so much more. We will be going on a few hikes including one to the wind cave and moonlight hike. There will also be plenty of campfire entertainment provided by the scouts.
Schedule:
Friday
4:00-6:00 Set up camp. First come, first serve for the campsites. (Dinner on your own.)
6:00-7:00 All about Bats at Nature Center details
7:30-8:30 Flashlight Hike with Ranger B at Merkle Trail details
Saturday
Morning Breakfast- see den leader or other parents from den and coordinate a breakfast together.
Option A
9:30 Hike to the Wind Cave. This is a 1.5 mile hike up to the Windcave and it is rated difficult because it is steep at the top. Bring plenty of water and maybe a snack/lunch for at the top.
Option B
10-11:30 Tortoise Day-Feeding, Reading, and More at Nature Center details
4:00 Den Meetings- get together with your den and work on adventures!
6:00 Dinner
7:00 S'mores
7:30 Campfire Program- skits, songs, stories, and games
Sunday
8:00 Interfaith service
10:00 Clean up and head home 🙂
Please see the Usery Website for directions.